Learn to play the ukulele with Dark Mountain Music's premier ukulele lessons in Edmonton! We offer a variety of ukulele lesson formats, including in-home ukulele lessons, online ukulele lessons, and ukulele lessons at an instructor's home near you in Edmonton, making it convenient for every aspiring ukulelist. With ukulele lesson lengths ranging from 30, 45, and 60 minutes, we cater to your schedule and preferences. Our team of qualified ukulele Instructors are here to provide you with a personalized and enriching learning experience, regardless of your age or skill level. Join us on a ukulele adventure that's tailored just for you, and let your passion and potential unlock under the guidance of our skilled ukulele instructors.
One time registration fee of $49 per family. No hidden costs, no extra travel fees, and no contracts or agreements to sign.
online OR
instructors home
Ask about our discounts for multiple students in the same home and lessons beyond 60-minutes!
online OR
instructors home
Ask about our discounts for multiple students in the same home and lessons beyond 60-minutes!
online OR
instructors home
Ask about our discounts for multiple students in the same home and lessons beyond 60-minutes!
Best UKULELE Lessons In Edmonton
Louise MacPherson
2023-08-22
I am very happy with this company. I have Julia Bolden she is a very good person she is patient and very knowledgeable. I am retired and I very appreciative of her patience with me. Thank you Julia.
My daughter has been taking vocal lessons with Chancé Snethun for about a month and loves it. She's excited for every lesson and it's been great seeing her pick up new skills
Julia is so great! As an adult learner I was worried about not being quick like the kids. Julia is very patient with me and if she's frustrated she never, ever shows it!! Daniel runs an excellent business. Very professional and quick, open communication. 10/10 recommend.
Julia Borden is a wonderful teacher. She is patient and very talented
I LOVE Dark Mountain Music! I get to see Julia for voice lessons and she has helped me so much with my confidence and ability to sing again! I had taken a year off from singing due to health related things and I was definitely nervous to start again but she was so kind and encouraging and made it a very fun hobby for me to enjoy again! Thank you Julia!!
Amazing company, very professional and thorough teaching. Highly recommended
Daniel is exceptional at Customizing Lessons to Suit my son & I. Out learning speed and Talent are different so Daniel adapts to that easily. He also communicates well with us during and as well as outside our lesson times. I feel he offers us great value and convenience. We are grateful for how much he has helped us. top top it all off, he is genuinely a nice person.
Daniel is an amazing instructor, the kids always look forward to having their lesson with him.
My daughter has been taking piano lessons for less than a year and she loves it! Daniel is an excellent teacher. Highly recommend!
My two daughters have private piano classes with Daniel at our home for the second season. Daniel is very patient and such a good teacher. He always starts classes on time. My daughter did a great improvement. We highly recommend
The ukulele's small size and light weight make it an excellent choice for musicians on the go. Whether you're traveling, camping, or simply want a convenient instrument to play at any time, the ukulele's portability ensures you can take your music with you wherever you venture, outside of your ukulele lessons.
Ukulele lessons are known for their short learning curve, making it an approachable instrument for beginners. With its straightforward chord shapes and finger positions, novice players can quickly start strumming and playing songs, providing a sense of accomplishment and motivation to continue learning.
Despite its simplicity, the ukulele is incredibly versatile. It can be used to play a diverse range of musical genres, from pop and folk to Hawaiian and reggae. It's cheerful and bright sound adds a joyful and playful dimension to your music, making it a fun and rewarding instrument to learn.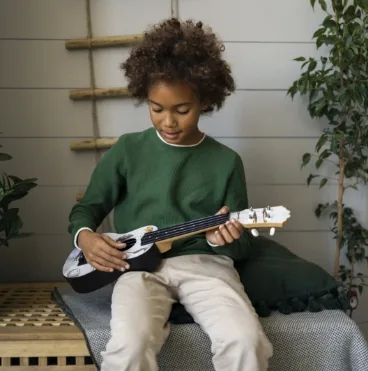 Community and Social Engagement
Learning the ukulele often leads to communal music experiences such as group play-alongs, jam sessions, and even joining ukulele clubs. These interactions create opportunities for social engagement, shared musical enjoyment, and a sense of belonging to a community of fellow ukulele enthusiasts. Playing the ukulele can help you connect with others and enhance your overall musical journey. WHY CHOOSE DARK MOUNTAIN MUSIC
FOR UKULELE LESSONS?
Experienced Instructors in Edmonton: Dark Mountain Music is your go-to choice for ukulele lessons in Edmonton. Our instructors are not only skilled musicians but passionate experts in ukulele playing. They'll guide you through the intricacies of this delightful instrument, offering in-home and online lessons to suit your preferences.
Personalized Ukulele Instruction: At Dark Mountain Music, we offer individualized ukulele lessons. Our instructors work closely with you to create a customized learning experience, aligning with your unique musical goals, whether you aim to master traditional Hawaiian tunes, strum contemporary pop hits, or explore intricate fingerpicking patterns. This tailored approach guarantees an engaging and fulfilling ukulele learning journey.
Flexible Ukulele Lesson Options: We understand the importance of convenience in your busy schedule. Dark Mountain Music offers various learning choices, including in-home ukulele lessons in Edmonton or online lessons. These flexible options ensure that learning to play the ukulele is accessible and convenient, tailored to your unique needs and preferences.
Supportive Learning Environment: Whether you opt for in-home ukulele lessons or online ukulele lessons, Dark Mountain Music nurtures a supportive, inspiring atmosphere that encourages creativity and passion for music. Our dedicated instructors create a nurturing space where you can confidently and comfortably pursue your ukulele goals, expanding your musical horizons.
What age is best to start Ukulele Lessons?
The ukulele is accessible to a broad age range. Young beginners, as early as 5 or 6, find it an excellent starting point due to its manageable size and strings. However, there's no age limit to learning the ukulele. Adults and seniors can also enjoy ukulele lessons. The ideal age depends on individual readiness and enthusiasm, so it's open to all interested learners.
Do I need to learn to read sheet music to play the ukulele, or can I play by ear?
We support all learning styles, recognizing each approach's advantages and limitations. Learning to read ukulele tablature and chord diagrams is a valuable skill for beginners, offering a straightforward way to understand fingering and strumming patterns. However, as you advance, reading sheet music can help explore more complex melodies and fingerpicking arrangements.
What songs can I expect to learn in ukulele lessons?
Our ukulele lessons offer students the freedom to shape their learning experience by selecting songs that resonate with their musical tastes. While we can provide a diverse range of genres in our lessons, we prioritize your choice of songs. Your enthusiasm for the music you choose is crucial for a fulfilling ukulele journey.
What ukulele should I get, and does it matter for my lessons?
The choice of ukulele can impact your playing experience. Soprano ukuleles are the smallest, known for their bright, tinkling tone. Concert ukuleles offer a slightly larger size and fuller sound. Tenor ukuleles are even larger, providing a warmer tone. Baritone ukuleles, the largest, resemble small guitars in sound. Your preference depends on the sound and playability you desire in.
Ready to kickstart your musical journey in Edmonton? Don't hesitate any longer! Contact Dark Mountain Music now for the best guitar lessons, singing lessons, piano lessons, ukulele lessons, and more. Whether you're an aspiring musician or hobbyist, our experienced instructors are here to guide you. Join our music academy today for the ultimate in-home, online, and in-studio music lessons. Contact us now, and let's make beautiful music together!