PRODUCTION LESSONS Edmonton
Learn to produce music with Dark Mountain Music's premier music production lessons in Edmonton! We offer a variety of music production lesson formats, including in-home music production lessons, online music production lessons, and music production lessons at an instructor's home near you in Edmonton, making it convenient for every aspiring producer. With music production lesson lengths ranging from 30, 45, and 60 minutes, we cater to your schedule and preferences. Our team of qualified music production Instructors are here to provide you with a personalized and enriching learning experience, regardless of your age or skill level. Join us on a producing adventure that's tailored just for you, and let your passion and potential unlock under the guidance of our skilled music production instructors.
One time registration fee of $49 per family. No hidden costs, no extra travel fees, and no contracts or agreements to sign.
online OR
instructors home
 Ask about our discounts for multiple students in the same home and lessons beyond 60-minutes!
online OR
instructors home
Ask about our discounts for multiple students in the same home and lessons beyond 60-minutes!
online OR
instructors home
Ask about our discounts for multiple students in the same home and lessons beyond 60-minutes!
Best PRODUCTION Lessons In Edmonton
Louise MacPherson
2023-08-22
I am very happy with this company. I have Julia Bolden she is a very good person she is patient and very knowledgeable. I am retired and I very appreciative of her patience with me. Thank you Julia.
My daughter has been taking vocal lessons with Chancé Snethun for about a month and loves it. She's excited for every lesson and it's been great seeing her pick up new skills
Julia is so great! As an adult learner I was worried about not being quick like the kids. Julia is very patient with me and if she's frustrated she never, ever shows it!! Daniel runs an excellent business. Very professional and quick, open communication. 10/10 recommend.
Julia Borden is a wonderful teacher. She is patient and very talented
I LOVE Dark Mountain Music! I get to see Julia for voice lessons and she has helped me so much with my confidence and ability to sing again! I had taken a year off from singing due to health related things and I was definitely nervous to start again but she was so kind and encouraging and made it a very fun hobby for me to enjoy again! Thank you Julia!!
Amazing company, very professional and thorough teaching. Highly recommended
Daniel is exceptional at Customizing Lessons to Suit my son & I. Out learning speed and Talent are different so Daniel adapts to that easily. He also communicates well with us during and as well as outside our lesson times. I feel he offers us great value and convenience. We are grateful for how much he has helped us. top top it all off, he is genuinely a nice person.
Daniel is an amazing instructor, the kids always look forward to having their lesson with him.
My daughter has been taking piano lessons for less than a year and she loves it! Daniel is an excellent teacher. Highly recommend!
My two daughters have private piano classes with Daniel at our home for the second season. Daniel is very patient and such a good teacher. He always starts classes on time. My daughter did a great improvement. We highly recommend
WHY LEARN MUSIC PRODUCTION?
Music production offers a unique platform for artistic expression. As a producer, you have the freedom to craft and manipulate sounds, melodies, and rhythms to create music that reflects your emotions, thoughts, and ideas. This creative outlet allows you to tell stories and convey messages through your compositions, providing a powerful means of self-expression.
Versatility and Independence
Music production skills empower you to be versatile and self-sufficient in your musical endeavours. Whether you're a solo artist, part of a band, or working with other musicians, understanding production techniques enables you to record, mix, and master your music independently. This independence can save time and money, giving you greater control over your artistic vision.
Collaboration Opportunities
Music production opens doors too collaborations with musicians, producers, and artists. By mastering the technical aspects of music creation, you can effectively communicate ideas and contribute to joint projects. These collaborations can lead to fresh perspectives, innovative musical styles, and an extended network within the music industry, offering exciting opportunities for growth and creativity.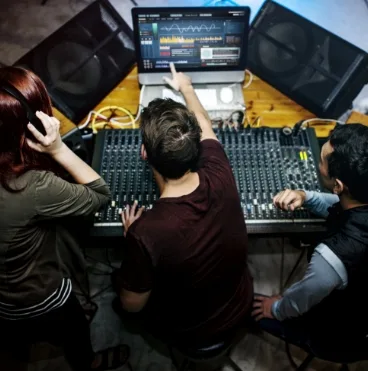 In the digital age, music production skills are in high demand, opening doors to diverse career opportunities. Whether you're creating your music, producing for others, composing for film and television, or crafting video game soundtracks, the possibilities are vast. Online platforms enable global distribution and marketing, allowing you to reach a wide audience and generate income from your creative endeavours. WHY CHOOSE DARK MOUNTAIN MUSIC
FOR MUSIC PRODUCTION LESSONS?
Expert Instructors in Edmonton: Dark Mountain Music is home to a dedicated team of expert music production instructors based in Edmonton. These seasoned professionals bring a wealth of industry knowledge to your music production lessons. Learning from such accomplished mentors guarantees you'll receive top-quality guidance and mentorship, allowing you to hone your skills in the world of music production.
Personalized Lessons: At Dark Mountain Music, your music production lessons are meticulously customized to align with your unique goals, interests, and current skill level. This personalized approach ensures that you receive instruction that is perfectly tailored to your individual needs, empowering you to achieve your specific musical aspirations with precision and efficiency.
Flexible Learning Locations: Dark Mountain Music understands the importance of convenience in your learning experience. That's why we offer music production lessons at your home, online, or lessons at an instructors home near you in Edmonton. Whether you prefer the bustling urban environment of Edmonton or a more localized setting, you have the flexibility to choose the location that suits you best.
Inclusivity for All Ages and Skill Levels: Dark Mountain Music embraces students of all ages and skill levels, creating an inclusive community. Whether you're a young beginner taking your first steps in music production or an experienced producer refining your craft, you'll discover a supportive environment that values and nurtures your passion. This inclusive atmosphere ensures that every student feels respected and encouraged in their musical journey.
What equipment do I need for music production lessons?
To begin, you'll need a computer with music production software like Ableton Live, Logic Pro, or FL Studio, plus quality headphones or studio monitors. As you advance, consider a MIDI controller, audio interface, and microphone for a fuller setup. We offer guidance on selecting budget-friendly or free DAWs (Digital Audio Workstations) to help you get started efficiently.
Do I need any prior musical experience to take music production lessons?
You don't need any prior musical experience to join our music production lessons. We cater to individuals of all levels, from young beginners to advanced seasoned musicians. Our experienced instructors will adapt the curriculum to suit your specific skill level, whether you're starting from scratch or looking to build upon existing knowledge.
How long does it take to achieve proficiency in music production?
The time it takes to become proficient in music production varies depending on your goals, dedication, and practice. You can start creating music fairly quickly, but becoming proficient can take several months to a few years of consistent practice and learning. Remember, it's a journey, and progress comes with continuous effort.
What will I learn in music production lessons?
Music production lessons cover a wide range of topics, including sound design, MIDI sequencing, audio recording, mixing, mastering, and more. You'll learn to use digital audio workstations (DAWs), create your own music, and develop the technical and creative skills needed to produce high-quality tracks. Lessons can be tailored to your specific interests and goals.
Ready to kickstart your musical journey in Edmonton? Don't hesitate any longer! Contact Dark Mountain Music now for the best guitar lessons, singing lessons, piano lessons, ukulele lessons, and more. Whether you're an aspiring musician or hobbyist, our experienced instructors are here to guide you. Join our music academy today for the ultimate in-home, online,
and in-studio music lessons. Contact us now, and let's make beautiful music together!