Learn to play the guitar with Dark Mountain Music's premier guitar lessons in Edmonton! We offer a variety of guitar lesson formats, including in-home guitar lessons, online guitar lessons, and guitar lessons at an instructor's home near you in Edmonton, making it convenient for every aspiring guitarist. With guitar lesson lengths ranging from 30, 45, and 60 minutes, we cater to your schedule and preferences. Our team of qualified guitar Instructors are here to provide you with a personalized and enriching learning experience, regardless of your age or skill level. Join us on a guitar adventure that's tailored just for you, and let your passion and potential unlock under the guidance of our skilled guitar instructors.
One time registration fee of $49 per family. No hidden costs, no extra travel fees, and no contracts or agreements to sign.
online OR
instructors home
Ask about our discounts for multiple students in the same home and lessons beyond 60-minutes!
online OR
instructors home
 Ask about our discounts for multiple students in the same home and lessons beyond 60-minutes!
online OR
instructors home
 Ask about our discounts for multiple students in the same home and lessons beyond 60-minutes!
Best Guitar Lessons In Edmonton
Louise MacPherson
2023-08-22
I am very happy with this company. I have Julia Bolden she is a very good person she is patient and very knowledgeable. I am retired and I very appreciative of her patience with me. Thank you Julia.
My daughter has been taking vocal lessons with Chancé Snethun for about a month and loves it. She's excited for every lesson and it's been great seeing her pick up new skills
Julia is so great! As an adult learner I was worried about not being quick like the kids. Julia is very patient with me and if she's frustrated she never, ever shows it!! Daniel runs an excellent business. Very professional and quick, open communication. 10/10 recommend.
Julia Borden is a wonderful teacher. She is patient and very talented
I LOVE Dark Mountain Music! I get to see Julia for voice lessons and she has helped me so much with my confidence and ability to sing again! I had taken a year off from singing due to health related things and I was definitely nervous to start again but she was so kind and encouraging and made it a very fun hobby for me to enjoy again! Thank you Julia!!
Amazing company, very professional and thorough teaching. Highly recommended
Daniel is exceptional at Customizing Lessons to Suit my son & I. Out learning speed and Talent are different so Daniel adapts to that easily. He also communicates well with us during and as well as outside our lesson times. I feel he offers us great value and convenience. We are grateful for how much he has helped us. top top it all off, he is genuinely a nice person.
Daniel is an amazing instructor, the kids always look forward to having their lesson with him.
My daughter has been taking piano lessons for less than a year and she loves it! Daniel is an excellent teacher. Highly recommend!
My two daughters have private piano classes with Daniel at our home for the second season. Daniel is very patient and such a good teacher. He always starts classes on time. My daughter did a great improvement. We highly recommend
Guitar lessons are the gateway to honing your musical skills. Learning this versatile instrument equips you with the ability to not only play but also understand the language of music. With dedication, you can elevate your musical proficiency, making you a more versatile and knowledgeable musician.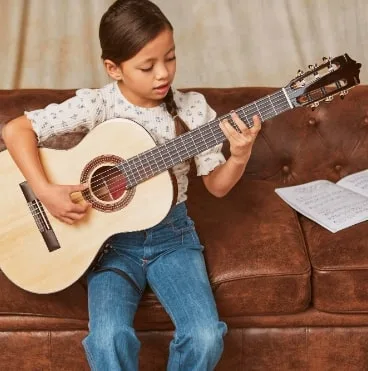 The guitar provides a canvas for self-expression. It's a tool for creative minds to compose original music, improvise, and share their unique musical ideas. Whether you're strumming chords, picking melodies, or crafting your own songs, guitar lessons open up a world of creativity and artistic freedom.
Playing the guitar is a mental workout. It challenges your brain by requiring memory retention, problem-solving, and fine motor skills. The cognitive benefits of learning this instrument extend beyond music, enhancing your overall mental acuity and expanding your capacity for learning.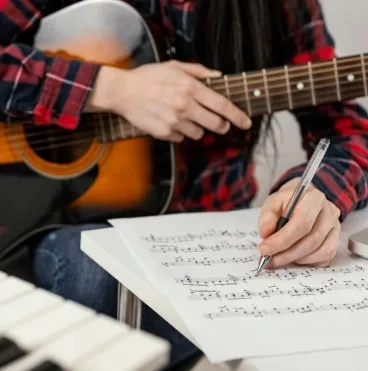 Music has a therapeutic quality, and the guitar is no exception. Engaging with the instrument provides an avenue for stress relief. It allows you to escape the demands of daily life, immerse yourself in the world of music, and find solace in the act of playing. This emotional release not only reduces stress but also contributes to your overall mental well-being. Why Choose Dark Mountain Music
for Guitar Lessons?
Masterful Guitar Instructors: Our Edmonton-based guitar instructors, deeply rooted in the local music scene, bring years of practice, performance, and teaching experience. Whether you prefer in-home or online guitar lessons, our team offers personalized instruction to align with your musical goals, catering to both beginners and experienced players.
Personalized Learning Experience: At Dark Mountain Music, we provide personalized guitar lessons in Edmonton. Our instructors cater to diverse musical aspirations, offering tailored lessons to master classical techniques, play favourite songs, or explore music theory. Our in-home and online guitar lessons are designed to align with your individual goals, ensuring a dynamic and gratifying learning experience.
Flexible Learning Environments: At Dark Mountain Music, we offer versatile guitar lessons in Edmonton. We accommodate your unique schedule and preferences with options like in-home, online, or instructor's location lessons. Our aim is to make learning accessible and accommodating, aligning with your needs and desires. Your musical journey is our priority, and our flexible learning environments ensure you can embark on it with ease.
Supportive Learning Atmosphere: At Dark Mountain Music, we nurture your musical journey with warm and supportive guitar lessons in Edmonton. We offer in-home and online instruction, tailored to your unique needs. Our experienced instructors are dedicated to your growth, whether you're a beginner or experienced player. Your progress and fulfillment are our priorities, shaping a solid foundation for your guitar classes, in any learning format.
How often should I practice in between guitar lessons to make noticeable progress?
Regular, daily practice is crucial for enhancing your skills between guitar lessons. Aim for at least 20-30 minutes of focused practice each day. Consistency reinforces your lesson knowledge and builds muscle memory. To maximize progress, follow your instructor's recommended techniques and exercises during your practice sessions. Quality practice is just as important as frequency for significant improvements in your guitar playing.
What sets in-home guitar lessons apart from online guitar lessons, and which do you recommend for the most effective results?
In-person and online guitar lessons both provide high-quality education, but in-person lessons offer a more immersive experience with immediate feedback. We generally recommend in-person instruction, although the choice depends on your convenience and preferences. Our dedicated instructors will ensure a seamless and effective learning experience, regardless of your choice.
What age groups are eligible for guitar instruction?
Guitar instruction is open to individuals of all ages. Our skilled instructors tailor their teaching methods to suit children, teenagers, adults, and seniors, ensuring a personalized learning experience for everyone, regardless of age or learning style. At Dark Mountain Music, the joy of discovering and developing your unique guitar talent is accessible to all age groups.
How can I get started with guitar instruction?
To commence your guitar training and instruction in Edmonton with Dark Mountain Music, simply get in touch with us through our website or by phone. We'll collaborate with you to schedule your first lesson and discuss your preferred learning location, whether it's online, in your home, or at the instructor's location. If you have any specific requirements or questions about guitar instruction, our team is here to assist you throughout your musical journey.
Ready to kickstart your musical journey in Edmonton? Don't hesitate any longer! Contact Dark Mountain Music now for the best guitar lessons, singing lessons, piano lessons, ukulele lessons, and more. Whether you're an aspiring musician or hobbyist, our experienced instructors are here to guide you. Join our music academy today for the ultimate in-home, online, and in-studio music lessons. Contact us now, and let's make beautiful music together!