Learn to sing with Dark Mountain Music's premier singing lessons in Edmonton! We offer a variety of singing lesson formats, including in-home singing lessons, online singing lessons, and singing lessons at an instructor's home near you in Edmonton, making it convenient for every aspiring vocalist. With singing lesson lengths ranging from 30, 45, and 60 minutes, we cater to your schedule and preferences. Our team of qualified singing Instructors are here to provide you with a personalized and enriching learning experience, regardless of your age or skill level. Join us on a singing adventure that's tailored just for you, and let your passion and potential unlock under the guidance of our skilled singing instructors.
One time registration fee of $49 per family. No hidden costs, no extra travel fees, and no contracts or agreements to sign.
online OR
instructors home
 Ask about our discounts for multiple students in the same home and lessons beyond 60-minutes!
online OR
instructors home
Ask about our discounts for multiple students in the same home and lessons beyond 60-minutes!
online OR
instructors home
Ask about our discounts for multiple students in the same home and lessons beyond 60-minutes!
Best Singing Lessons In Edmonton
Louise MacPherson
2023-08-22
I am very happy with this company. I have Julia Bolden she is a very good person she is patient and very knowledgeable. I am retired and I very appreciative of her patience with me. Thank you Julia.
My daughter has been taking vocal lessons with Chancé Snethun for about a month and loves it. She's excited for every lesson and it's been great seeing her pick up new skills
Julia is so great! As an adult learner I was worried about not being quick like the kids. Julia is very patient with me and if she's frustrated she never, ever shows it!! Daniel runs an excellent business. Very professional and quick, open communication. 10/10 recommend.
Julia Borden is a wonderful teacher. She is patient and very talented
I LOVE Dark Mountain Music! I get to see Julia for voice lessons and she has helped me so much with my confidence and ability to sing again! I had taken a year off from singing due to health related things and I was definitely nervous to start again but she was so kind and encouraging and made it a very fun hobby for me to enjoy again! Thank you Julia!!
Amazing company, very professional and thorough teaching. Highly recommended
Daniel is exceptional at Customizing Lessons to Suit my son & I. Out learning speed and Talent are different so Daniel adapts to that easily. He also communicates well with us during and as well as outside our lesson times. I feel he offers us great value and convenience. We are grateful for how much he has helped us. top top it all off, he is genuinely a nice person.
Daniel is an amazing instructor, the kids always look forward to having their lesson with him.
My daughter has been taking piano lessons for less than a year and she loves it! Daniel is an excellent teacher. Highly recommend!
My two daughters have private piano classes with Daniel at our home for the second season. Daniel is very patient and such a good teacher. He always starts classes on time. My daughter did a great improvement. We highly recommend
Embarking on singing lessons is an exploration of creative expression. It provides individuals with a unique platform to channel their innermost emotions and narratives through the medium of music. This profound connection between voice and emotion allows singers to communicate, inspire, and connect with their audience on a deeply artistic level, making singing a potent form of self-expression and storytelling.
Singing lessons serve as a platform for improving vocal skills. They encompass aspects like pitch accuracy, tone control, and breath management. These refined techniques result in a more polished and accomplished singing voice, providing individuals with the tools to express their musical ideas with precision and clarity, regardless of the genre they choose to explore.
Singing for Stress Relief
Singing has a remarkable ability to alleviate stress and enhance one's overall well-being. Through the release of endorphins and the reduction of cortisol levels, singing promotes a deep sense of relaxation and improved mental health. This therapeutic practice allows individuals to find solace in music, offering an escape from daily pressures and contributing to a more relaxed and contented state of mind.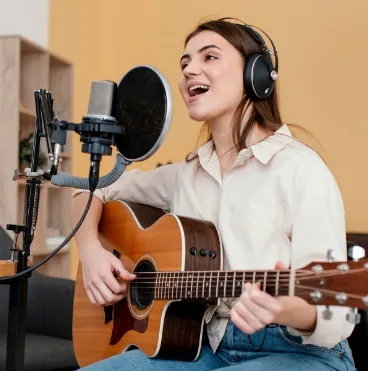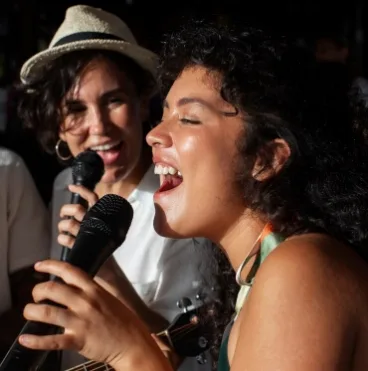 Nurturing singing skills and regularly performing in front of an audience can significantly enhance self-confidence and self-esteem. This process aids in overcoming stage fright, fostering a greater sense of self-assurance and improving communication abilities. As individuals grow more comfortable expressing themselves through song, their overall self-esteem and confidence levels naturally rise. Why choose Dark Mountain Music
for Singing Lessons?
Experienced Vocal Guides: At Dark Mountain Music, we take pride in our team of accomplished singing instructors hailing from Edmonton. They aren't just musicians; they are vocal training experts with extensive experience. Whether you're starting from scratch or aiming to refine advanced techniques, our instructors passionately nurture vocal talent, ensuring you reach your full singing potential.
Customized Singing Lessons: We understand that every student is unique, with varying musical aspirations. At Dark Mountain Music, our singing lessons are tailored to your specific goals. Whether your passion lies in classical arias, emotive pop ballads, or contemporary hits, our instructors will craft a personalized path to align your lessons with your musical dreams, making the learning journey engaging and fulfilling.
Flexible Learning Environments: To accommodate your needs and preferences, we provide a range of learning options. You can choose from online singing lessons, in-home singing lessons, or lessons at the instructor's location in Edmonton. This adaptability ensures that your learning experience is both convenient and accessible, aligning with your unique schedule and preferences, making it an inclusive opportunity for all.
Supportive Learning Environment: At Dark Mountain Music, we foster a supportive atmosphere that nurtures creativity and passion for music. Our high-quality singing instruction, available online or in-home, is provided by dedicated instructors. They create a supportive environment where you can confidently pursue your vocal goals and enhance your artistic expression and musical excellence.
How do in-home vocal lessons differ from online vocal lessons, and which do you recommend for the best results?
The choice between in-home and online vocal lessons is often a matter of personal preference. In-person lessons offer a more immersive and interactive experience with immediate hands-on feedback from instructors, while online lessons provide flexibility and convenience. The best choice depends on your individual needs and comfort, and our instructors are committed to ensuring an effective learning experience regardless of your selection.
Can anyone learn to sing?
Almost anyone can learn to sing. Singing is a skill that can be developed through vocal training and practice. Whether you have a natural talent or believe you can't sing, the right instruction and dedication can lead to significant progress. With a skilled vocal instructor and lessons, you can enhance your abilities and find joy in singing.
What age is the ideal time to start singing lessons?
The ideal age to start singing lessons usually falls between 8 to 12, as children at this stage have developed some vocal control. However, it's never too late to begin. Adolescents, adults, and seniors can all take up singing lessons and progress significantly with dedication and guidance. Enthusiasm and commitment matter more than age when it comes to developing singing skills.
How do I get started with singing lessons?
To start your singing journey with Dark Mountain Music in Edmonton, get in touch via our website or by phone. We'll help you schedule your initial lesson and chat about where you'd like to learn—whether online, at your place, or the instructor's location. If you have special requests or questions about singing lessons, we're here to guide you through your musical adventure.
Ready to kickstart your musical journey in Edmonton? Don't hesitate any longer! Contact Dark Mountain Music now for the best guitar lessons, singing lessons, piano lessons, ukulele lessons, and more. Whether you're an aspiring musician or hobbyist, our experienced instructors are here to guide you. Join our music academy today for the ultimate in-home, online, and in-studio music lessons. Contact us now, and let's make beautiful music together!