Learn to play the bass with Dark Mountain Music's premier bass guitar lessons in Edmonton! We offer a variety of bass guitar lesson formats, including in-home bass guitar lessons, online bass guitar lessons, and bass guitar lessons at an instructor's home near you in Edmonton, making it convenient for every aspiring bassist. With bass guitar lesson lengths ranging from 30, 45, and 60 minutes, we cater to your schedule and preferences. Our team of qualified bass Instructors are here to provide you with a personalized and enriching learning experience, regardless of your age or skill level. Join us on a bass guitar adventure that's tailored just for you, and let your passion and potential unlock under the guidance of our skilled bass guitar instructors.
One time registration fee of $49 per family. No hidden costs, no extra travel fees, and no contracts or agreements to sign.
online OR
instructors home
 Ask about our discounts for multiple students in the same home and lessons beyond 60-minutes!
online OR
instructors home
Ask about our discounts for multiple students in the same home and lessons beyond 60-minutes!
online OR
instructors home
Ask about our discounts for multiple students in the same home and lessons beyond 60-minutes!
Best bass Lessons In Edmonton
Louise MacPherson
2023-08-22
I am very happy with this company. I have Julia Bolden she is a very good person she is patient and very knowledgeable. I am retired and I very appreciative of her patience with me. Thank you Julia.
My daughter has been taking vocal lessons with Chancé Snethun for about a month and loves it. She's excited for every lesson and it's been great seeing her pick up new skills
Julia is so great! As an adult learner I was worried about not being quick like the kids. Julia is very patient with me and if she's frustrated she never, ever shows it!! Daniel runs an excellent business. Very professional and quick, open communication. 10/10 recommend.
Julia Borden is a wonderful teacher. She is patient and very talented
I LOVE Dark Mountain Music! I get to see Julia for voice lessons and she has helped me so much with my confidence and ability to sing again! I had taken a year off from singing due to health related things and I was definitely nervous to start again but she was so kind and encouraging and made it a very fun hobby for me to enjoy again! Thank you Julia!!
Amazing company, very professional and thorough teaching. Highly recommended
Daniel is exceptional at Customizing Lessons to Suit my son & I. Out learning speed and Talent are different so Daniel adapts to that easily. He also communicates well with us during and as well as outside our lesson times. I feel he offers us great value and convenience. We are grateful for how much he has helped us. top top it all off, he is genuinely a nice person.
Daniel is an amazing instructor, the kids always look forward to having their lesson with him.
My daughter has been taking piano lessons for less than a year and she loves it! Daniel is an excellent teacher. Highly recommend!
My two daughters have private piano classes with Daniel at our home for the second season. Daniel is very patient and such a good teacher. He always starts classes on time. My daughter did a great improvement. We highly recommend
Bass guitar lessons are essential for honing precise hand coordination. They harmonize your fretting hand, responsible for pressing the strings, with your plucking hand, which generates rhythmic patterns. This enhancement not only advances your musical prowess but also sharpens overall hand-eye coordination, offering practical advantages in various aspects of life.
The rhythmic and melodic qualities of playing the bass serve as a therapeutic outlet, helping alleviate stress and providing a calming effect on the mind. It's a relaxing escape that allows you to unwind and find solace after a long and demanding day, promoting mental well-being and emotional balance.
Bass lessons engage your brain on multiple levels. It challenges your memory as you learn and recall songs, promotes problem-solving as you decipher complex bass-lines, and sparks creativity when composing your music. This mental exercise contributes to your overall cognitive well-being, enhancing memory, analytical skills, and creative thinking.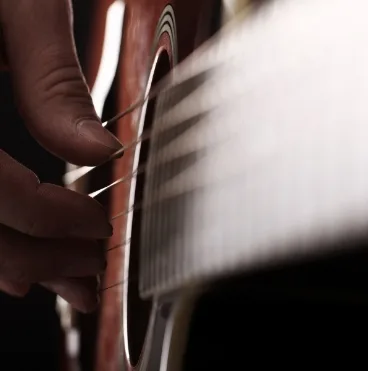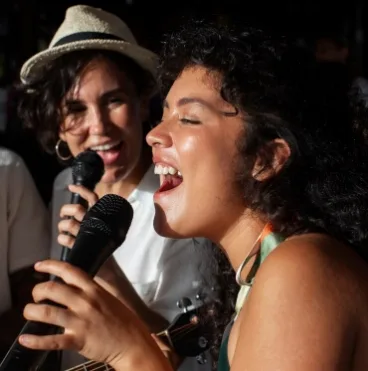 Deeper Musical Understanding
As you immerse yourself in learning the bass, your musical awareness deepens. You become a more attentive listener, dissecting songs and gaining a deeper appreciation for their intricate components. This newfound perspective enhances your overall musical enjoyment, enabling you to connect more profoundly with your favourite compositions, and even potentially inspiring you to explore broader musical horizons. WHY CHOOSE DARK MOUNTAIN MUSIC
FOR BASS LESSONS?
Experienced Instructors In Edmonton: Dark Mountain Music boasts a team of highly skilled and experienced bass instructors in Edmonton. With years of performance and teaching experience, they provide invaluable insights and expertise, guiding students through the world of bass guitar. This knowledge ensures top-notch guidance, essential for rapid progress and achieving musical goals.
Personalized Bass Lessons: At Dark Mountain Music, we understand that one-size-fits-all approaches don't work for bass guitar lessons. Our instructors personalize each lesson to match the student's unique goals and preferences. Whether you're keen on mastering specific techniques, exploring diverse music styles, or developing original compositions, our customized instruction ensures your continuous motivation and engagement on your learning journey.
Flexible Learning Options: Dark Mountain Music offers flexible learning options. You can select in-home bass lessons, tailored for personalized convenience and eliminating the need for travel. Alternatively, we provide online bass lessons, which are perfect for those with busy schedules or a preference for remote learning. These choices ensure that bass lessons seamlessly integrate into your lifestyle while receiving expert instruction.
All Skill Levels and Ages Welcome: Dark Mountain Music is committed to inclusive bass lessons in Edmonton, welcoming all ages and skill levels. Whether you're a beginner or an advanced player, our instructors adapt their approach to your needs, fostering a sense of community and encouraging lifelong learning, making us the ideal choice for diverse backgrounds and experiences.
Do I need to own a bass guitar to start lessons?
Owning a bass guitar is crucial for optimizing your lessons. Regular practice is essential for skill development. If you don't own one, no worries. We're here to assist you in finding affordable rental or purchase options to ensure you have the right bass guitar for your learning journey. Our commitment is to make your bass lesson experience accessible and convenient.
Do you offer bass lessons outside of Edmonton?
We provide bass lessons to students in Edmonton and surrounding areas. Our flexible options include in-home lessons, online instruction, and lessons at the instructor's home. Please be aware that locations outside of Edmonton's city limits may incur an additional travel fee. We strive to serve students in various areas while maintaining fair and convenient access to our services.
How often should I expect to take bass guitar lessons for noticeable progress?
We require a minimum commitment of weekly lessons for all students, especially beginners, to ensure steady progress and a strong foundation. As you advance, you gain flexibility in spacing out lessons, but consistent practice remains vital for noticeable improvement. Our instructors collaborate with you to customize a lesson schedule that suits your goals and availability.
Can I learn a specific music style during bass lessons?
Certainly! Our bass instructors possess versatility and expertise in various music styles. If you have a particular style in mind that you'd like to focus on, simply let your instructor know. They will customize your bass lessons to help you develop the skills and techniques specific to that style, ensuring your musical journey aligns with your preferences.
Ready to kickstart your musical journey in Edmonton? Don't hesitate any longer! Contact Dark Mountain Music now for the best guitar lessons, singing lessons, piano lessons, ukulele lessons, and more. Whether you're an aspiring musician or hobbyist, our experienced instructors are here to guide you. Join our music academy today for the ultimate in-home, online, and in-studio music lessons. Contact us now, and let's make beautiful music together!