Learn to play the drums with Dark Mountain Music's premier drumming lessons in Edmonton! We offer a variety of drumming lesson formats, including in-home drum lessons, online drum lessons, and drum lessons at an instructor's home near you in Edmonton, making it convenient for every aspiring drummer. With drum lesson lengths ranging from 30, 45, and 60 minutes, we cater to your schedule and preferences. Our team of qualified drumming Instructors are here to provide you with a personalized and enriching learning experience, regardless of your age or skill level. Join us on a drumming adventure that's tailored just for you, and let your passion and potential unlock under the guidance of our skilled drum instructors.
One time registration fee of $49 per family. No hidden costs, no extra travel fees, and no contracts or agreements to sign.
online OR
instructors home
Ask about our discounts for multiple students in the same home and lessons beyond 60-minutes!
online OR
instructors home
 Ask about our discounts for multiple students in the same home and lessons beyond 60-minutes!
online OR
instructors home
 Ask about our discounts for multiple students in the same home and lessons beyond 60-minutes!
Best Drums Lessons In Edmonton
Louise MacPherson
2023-08-22
I am very happy with this company. I have Julia Bolden she is a very good person she is patient and very knowledgeable. I am retired and I very appreciative of her patience with me. Thank you Julia.
My daughter has been taking vocal lessons with Chancé Snethun for about a month and loves it. She's excited for every lesson and it's been great seeing her pick up new skills
Julia is so great! As an adult learner I was worried about not being quick like the kids. Julia is very patient with me and if she's frustrated she never, ever shows it!! Daniel runs an excellent business. Very professional and quick, open communication. 10/10 recommend.
Julia Borden is a wonderful teacher. She is patient and very talented
I LOVE Dark Mountain Music! I get to see Julia for voice lessons and she has helped me so much with my confidence and ability to sing again! I had taken a year off from singing due to health related things and I was definitely nervous to start again but she was so kind and encouraging and made it a very fun hobby for me to enjoy again! Thank you Julia!!
Amazing company, very professional and thorough teaching. Highly recommended
Daniel is exceptional at Customizing Lessons to Suit my son & I. Out learning speed and Talent are different so Daniel adapts to that easily. He also communicates well with us during and as well as outside our lesson times. I feel he offers us great value and convenience. We are grateful for how much he has helped us. top top it all off, he is genuinely a nice person.
Daniel is an amazing instructor, the kids always look forward to having their lesson with him.
My daughter has been taking piano lessons for less than a year and she loves it! Daniel is an excellent teacher. Highly recommend!
My two daughters have private piano classes with Daniel at our home for the second season. Daniel is very patient and such a good teacher. He always starts classes on time. My daughter did a great improvement. We highly recommend
Enhanced Rhythm and Coordination
Drumming lessons are a dynamic activity that sharpens rhythm and coordination. It requires precise timing and control of all four limbs, significantly improving motor skills and overall coordination, fostering practical benefits in various aspects of life. These skills not only enhance musical abilities but also have broader applications, promoting better physical and cognitive capabilities.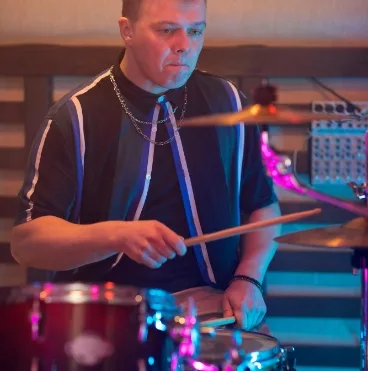 Stress Relief and Emotional Expression
Drumming acts as a profound emotional release. Through the rhythmic language of beats and patterns, it provides a safe channel for the expression of feelings and the reduction of stress, ultimately promoting emotional well-being and a profound sense of relaxation. This powerful outlet offers a sanctuary for emotional release and healing, nurturing a deep connection between rhythm and emotions.
Improved Cognitive Function
Learning the drums offers a stimulating experience for the brain as it actively engages memory, problem-solving, and creativity. This multifaceted mental exercise enhances cognitive functions, contributing to improved memory retention, heightened problem-solving abilities, and enhanced creative thinking. The rhythmic patterns and musical complexities provide mental agility and encourage innovation, making drumming a holistic cognitive workout.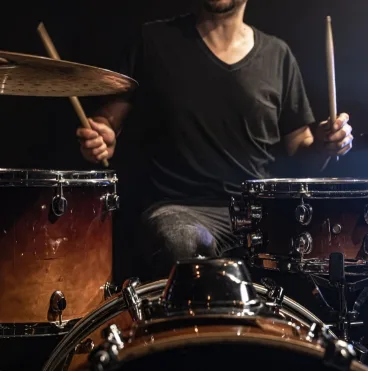 Drumming is a physically engaging activity that contributes to fitness improvement. It delivers a cardiovascular workout, elevating heart rate and enhancing endurance. Notably, it strengthens upper body muscles, fostering physical health and stamina. The rhythmic motion and coordinated effort make drumming a comprehensive fitness activity with a focus on upper body strength and cardiovascular health. Why Choose Dark Mountain Music
for DRUM LESSONS
Experienced Instructors: We are proud to offer drumming lessons in Edmonton led by a team of highly experienced and skilled instructors. These professionals have honed their drumming expertise over years of practice and performance, ensuring that students receive top-notch instruction. Their experience allows them to provide valuable insights, effective teaching methods, and personalized guidance tailored to each student's unique needs and goals.
Customized Learning: At Dark Mountain Music, we believe in tailoring each drum lesson to match your unique goals and aspirations, avoiding a one-size-fits-all approach. Discover the rhythm of your dreams with our skilled instructors who offer personalized drumming lessons suitable for all ages and skill levels. Whether you prefer in-home or online classes, our approach ensures convenience and flexibility in your drumming journey. Join our inclusive community and unlock your full drumming potential today!
Flexible Learning Locations: Dark Mountain Music offers flexible learning locations, including, online drumming lessons, drumming lessons at your own home, or drumming lessons at an instructors home near you in Edmonton. This adaptability lets you choose what suits you best, making it convenient to schedule lessons according to your availability and comfort, ensuring you can pursue your passion for drumming with ease.
Inclusivity for All Ages and Skill Levels: Dark Mountain Music prides itself on being an inclusive music education provider in Edmonton. They welcome drum enthusiasts of all ages and skill levels, creating a diverse and welcoming community of learners. Whether you're a beginner taking your first steps in drumming or an adult looking to refine your skills, Dark Mountain Music ensures that everyone can access high-quality drumming lessons in a supportive, inspiring, and non-discriminatory environment.
What qualifications do the drum instructors at Dark Mountain Music have?
At Dark Mountain Music, our instructors are highly skilled and experienced drummers. They typically hold degrees in music and have extensive performance and teaching experience. We believe in providing our students with the best possible education, and our instructors are committed to helping you achieve your drumming goals.
What age groups are suitable for drum lessons at Dark Mountain Music?
We offer drum lessons for students of all ages, from children as young as 4 years old to adults. Our instructors tailor their teaching methods to the specific needs and learning styles of each age group. Whether you're a beginner or an advanced drummer, we have a program that will suit your needs.
Do I need to own a drum set to take lessons at Dark Mountain Music?
Yes, it's a requirement to have access to a drum set or a percussive instrument for our lessons. Regular practice is essential for progress, and owning your instrument is highly recommended. Having your drum set ensures you can practice effectively between lessons and make the most of your learning experience.
What styles of drumming do you teach at Dark Mountain Music?
Dark Mountain Music offers a wide range of drumming styles, including rock, jazz, funk, blues, Latin, and more. Our instructors are versatile and will cater to your interests and goals. Whether you want to master a specific genre or develop well-rounded drumming skills, we have the expertise to help you achieve your musical aspirations.
Ready to kickstart your musical journey in Edmonton? Don't hesitate any longer! Contact Dark Mountain Music now for the best guitar lessons, singing lessons, piano lessons, ukulele lessons, and more. Whether you're an aspiring musician or hobbyist, our experienced instructors are here to guide you. Join our music academy today for the ultimate in-home, online, and in-studio music lessons. Contact us now, and let's make beautiful music together!